Choose from the following list of laserdisc games to see pictures of the cabinets.
QUARTER HORSE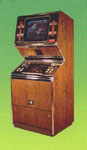 Upright (USA)


CONTRIBUTORS
Do you have any laserdisc game cabinets that aren't shown here?


---
QUESTIONS? COMMENTS? PROBLEMS?
Contact Us
HOME | LASER GAMES | LASER COMMUNITY | TECH CENTER

This website was created by Jeff Kinder & Dave Hallock, 1997 - 2022.
All trademarks and copyrighted materials are property of their respective owners.