Choose from the following list of laserdisc games to see the many different articles that were written.
MARBELLA VICE ARTICLES
Micro Mania - Issue #75 March 1994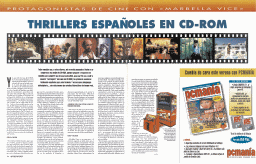 English translation
MARBELLA VICE: A CRAZY RIDE AT A THOUSAND SHOTS PER HOUR

Alex de la Iglesia has always been a fan of videogames. When producer Antonio Gallardo proposed Alex to make an FMV shooter he didn't think it twice. He says that the CDROM was an fun ride: "the animation [referring to the 3D graphics like the flying Marbella Vice title in the attract mode] surrounds the player in such a way that he believes all that is happening around him. On the other hand, the replay value gives the player infinite possibilities."

SHOTS AND LAUGHS

Marbella Vice is nothing serious. On the contrary, you are going to laugh so much while you are playing that you are going to get killed a lot. With a cast like this one this is not surprising: Alex Angulo, Santiago Segura and Catherine Fulop are the main protagonists. The plot - if you haven't imagined it already - is a parody of the TV show "Miami Vice". It's about the hunt of a drug lord named Amin Shala. After inserting coins, the player starts at a police station where he is greeted by his partner, Alex Angulo, alias Bengy, which tells what a lousy partner you are. He has bad manners - he likes to enter discotheques no with a pass but with his fists - but he is a great cop and partner. It turns out that Amin Shala is going to arrive at Marbella and you have to stop this at all costs. After shooting down his limousine you will meet super hottie Catherine Fulop. She will eventually fall in love with Alex. During the adventure the player will have to stay alert to all the enemies that tries to send them to their deaths in all sorts of places: discos, casinos, speed boats, cars, roller coasters, etc.

The videogame is an action treat. The player barely has time to watch the footage because the bad guys appear in every corner. If you kill an innocent, say your own partner, a bystander, a woman or the commisioner, then the spectacular Santiago Segura, which has nothing to envy at Edward James Olmos, will take care of you in an unorthodox way. The press, named here "The Voice of Marbella" will take charge in criticizing you for your actions.

On the other hand, and this is to be expected considering Alex de la Iglesia's involvement, the production values are top notch. The 30 million dollar budget is put to good use with tons of explosions, helicopters and speedboats blowing up, car chases, and luxury settings galore. All the stunts where done by Hollywood-type professionals. The resemblance of Marbella's beaches to those of Santa Monica (California) would fool anyone to think this was an american-made production. But this is far from the truth. This was produced here "Made in Spain!" It's something to feel proud of.

According to Alex de la Iglesia, the production was very similar to that of an action movie. "In terms of script and filming - says Alex -, the only thing different is the elaboration of the many game options". About the game's duration he says, "about half an hour if you can manage to reach the end". Technically speaking, the player shoots at the screen image and "depends that the laser emitted by the pistol registers in the right place" (Alex comments) "so that you can kill the enemy or the enemy kills you". In regards to the PC version, the point of focus is controlled by the mouse cursor. Alex can't stop praising the CD-ROM technology and he is already thinking about his next project.

As you can see there is no excuse now for not buying a CD-ROM for your personal computer. To play "Los Justicieros" or "Marbella Vice" is almost better than to go to the movie theater to watch a cop movie. Why are you going to watch Schwarzenegger or Stallone when you can be your own star and possibly do better? The release [in Spain] of the PC CD-ROM versions of these games is planned for November this year.


CONTRIBUTORS
Do you have any laserdisc game articles that aren't shown here?


---
QUESTIONS? COMMENTS? PROBLEMS?
Contact Us
HOME | LASER GAMES | LASER COMMUNITY | TECH CENTER

This website was created by Jeff Kinder & Dave Hallock, 1997 - 2021.
All trademarks and copyrighted materials are property of their respective owners.