Choose from the following list of laserdisc games to see the promotional material provided by the manufacturers.
TIME TRAVELER
TIME TRAVELER (Japan)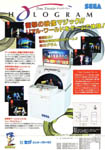 Front


CONTRIBUTORS
Do you have any laserdisc game flyers that aren't shown here?


---
QUESTIONS? COMMENTS? PROBLEMS?
Contact Us
HOME | LASER GAMES | LASER COMMUNITY | TECH CENTER

This website was created by Jeff Kinder & Dave Hallock, 1997 - 2022.
All trademarks and copyrighted materials are property of their respective owners.